Temma Curry has a bustling front window where employees in large chef hats dish out tons of delicious curry pan to hungry customers. Deciding to avoid the extremely hot summer weather, and busy crowds, I head into the cafe where the curry bread is made.
The shop itself has a strong french design influence, and would feel at home in a busy back alley of Europe. At first glace the cafe looks incredibly tiny, until I reached the back of the first seating section, where an ornate set of stairs lead me to the second floor. Upon ascending the stairs, an open room with large windows overlooking the busy Isezakicho street, greeted me with a sunny embrace. After taking my seat I looked over the menu. A conveniently labeled lunch special caught my eye. Curry pan and a drink set for 500 yen. Having skipped breakfast I decided to get two.
If you order the food at the same time it doesn't count as two lunches
Egg Curry Pan and Iced Chai Tea
A paper wrapped golden donut like object was placed in front of me, along with the supposedly famous chai tea.
From the outside you can't tell what flavor the bread will be. Luckily the wrapping tells you in large color coded font. "Tamago." I striped it down to take a good picture before dressing it again.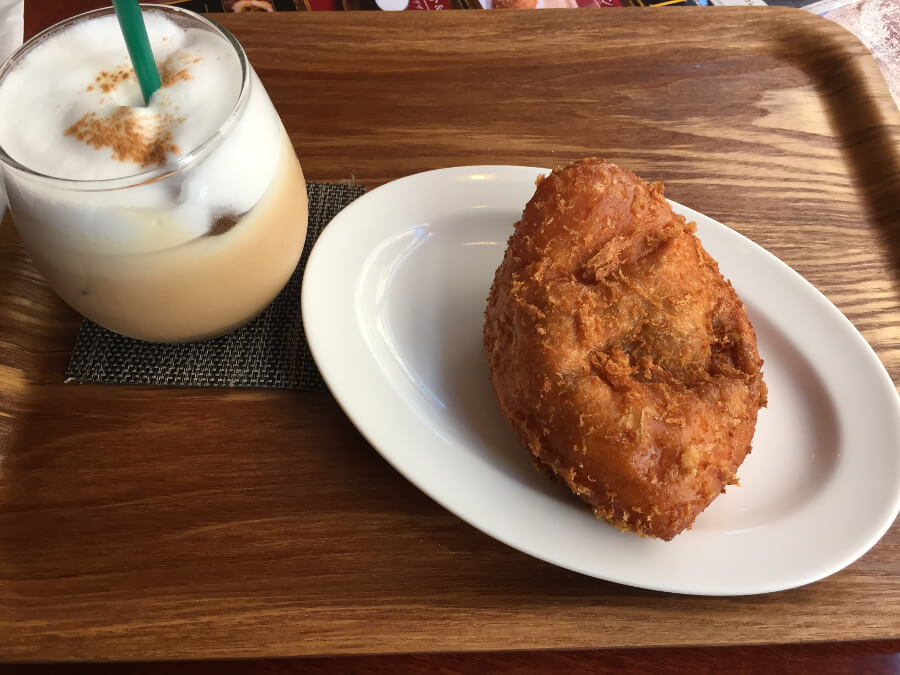 I am of the opinion that and egg makes anything better. Temma Curry agrees
I pick up the whole package, using the wrapper to keep my fingers clean, and take my first bite. A crispy and sweet bread, with bits of panko to add extra crunch, mixed with the wonderful curry inside. The initial taste was amazing, but I found my self asking the question "where's the egg?".
I looked down and spied the top of what looked to be a hard boiled egg,  sticking out of the bite I had just took. Aiming for the egg this time, I chomped down. An explosion of delicious soft boiled egg mixed with the curry and bread to create an even more rich and balanced bite. With so much flavor and texture making magic in my mouth, I didn't realize I had finished the whole curry pan. I wash everything down with the chai iced tea. It was pretty good. Next I set my sights on…
Beef Curry Pan and Homemade Ginger Ale
So far Temma Curry had not let me down. I look down at my next victim, a similarly packaged curry bread. This time the wrapper said, "Beef."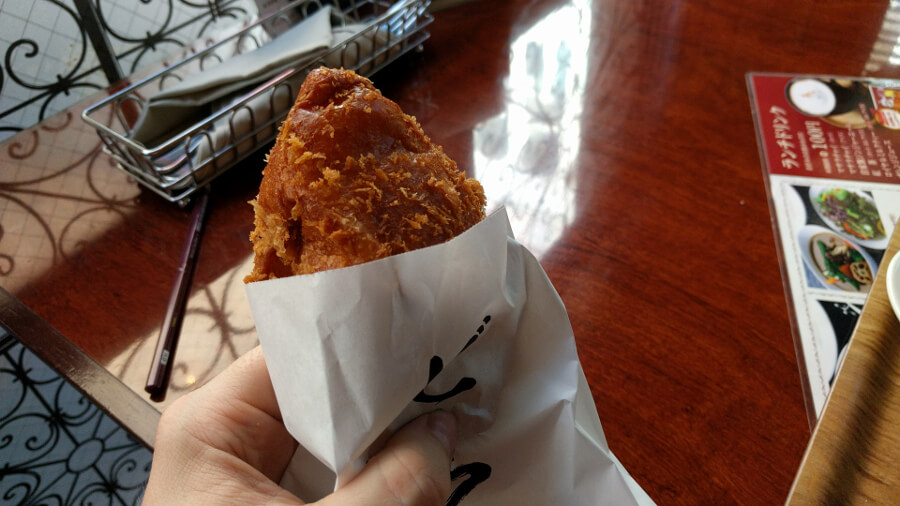 I have no beef with Temma curry thus far.
I wasted no time in attacking this curry bread. The wrapper only stayed on so that I could take the picture above. Sadly taking the picture took me away from what I really wanted to be doing; eating the curry pan as fast as I could. This curry was a bit sweeter than the last but in a totally delicious way. Strings of tender beef made every bite substantial. I enjoyed this curry bread as much as the first.
Having finished off another victim I sipped on the ginger ale to relax. It was instantly apparent that they were using fresh ginger in this drink. A spiciness and rush of flavor came with every sip. I would only advise hardcore ginger fans to partake in this drink. If you are one of those people, this is your drink. Everyone else, it may be a bit strong.
Temma Curry: An Addiction Waiting To Happen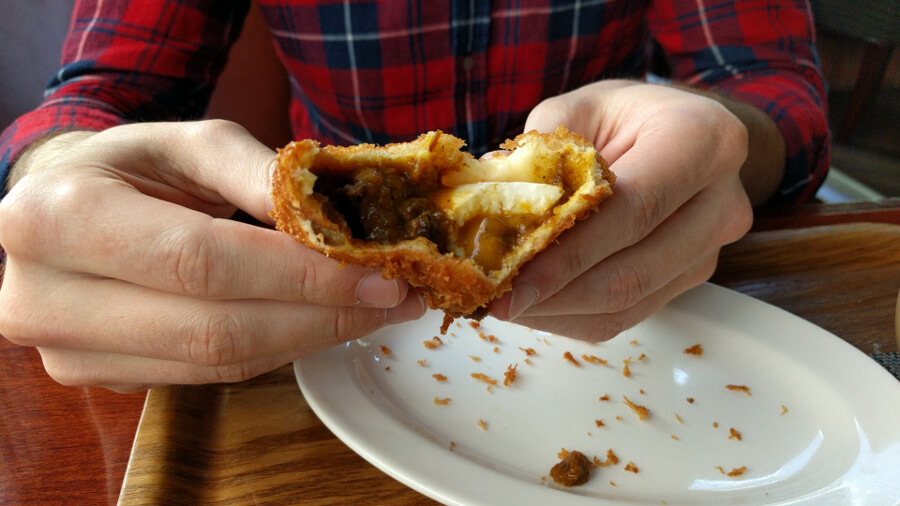 I hope the 12 step program for curry bread is just each flavor 3 times.

Temma Curry is absolutely worth visiting. The drinks are pleasant but the curry pan is what you need to go for. Luckily for everyone, you can just pop up to the window, part with 250 yen, and be on your way to crispy curry bliss.