Hey everyone, Matt here! Do you every get so hungry that you find yourself saying , "Man I'm starving. I could eat a whole horse!". Well, today I didn't eat a whole a horse but I did have some of it! Enter horse meat.
Joining me once again today is Will and getting distracted by clever advertising is our specialty. Just look at this sign.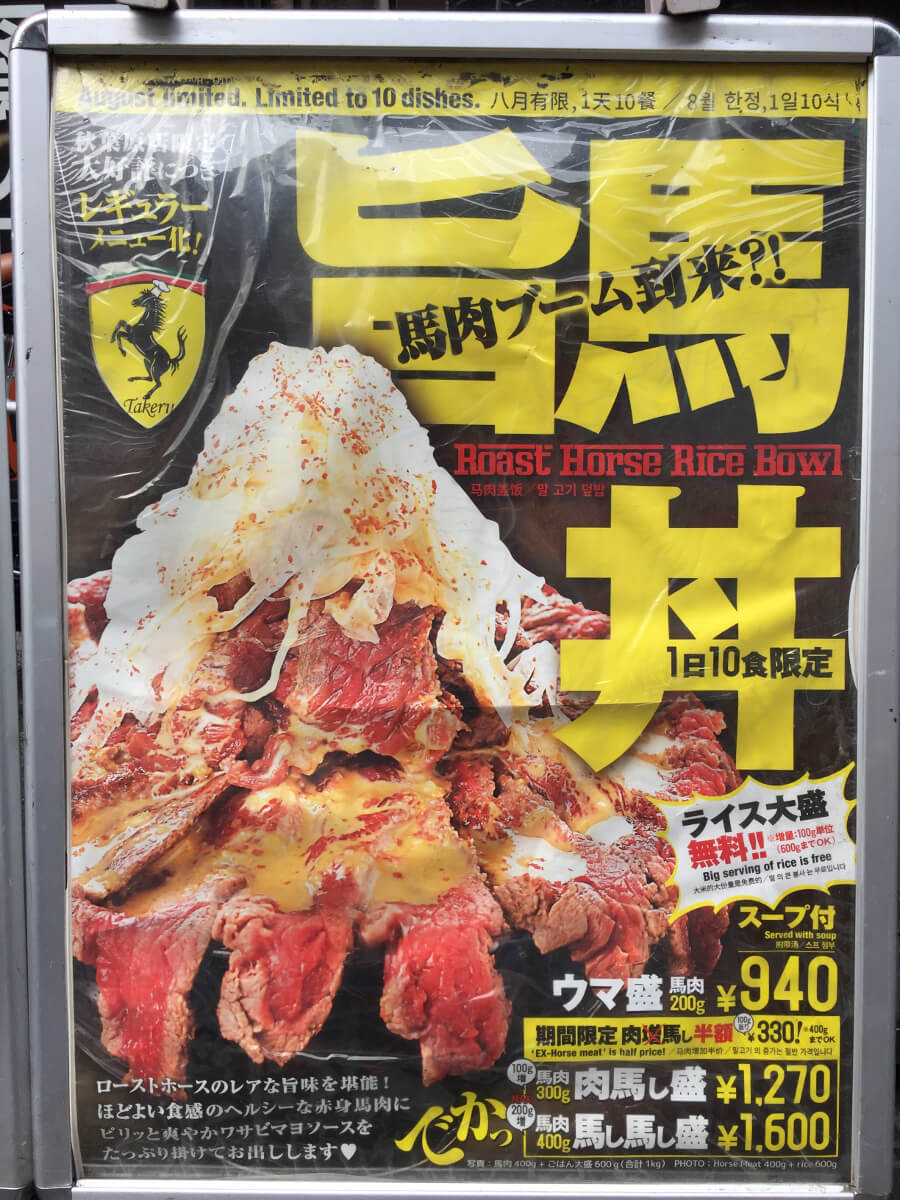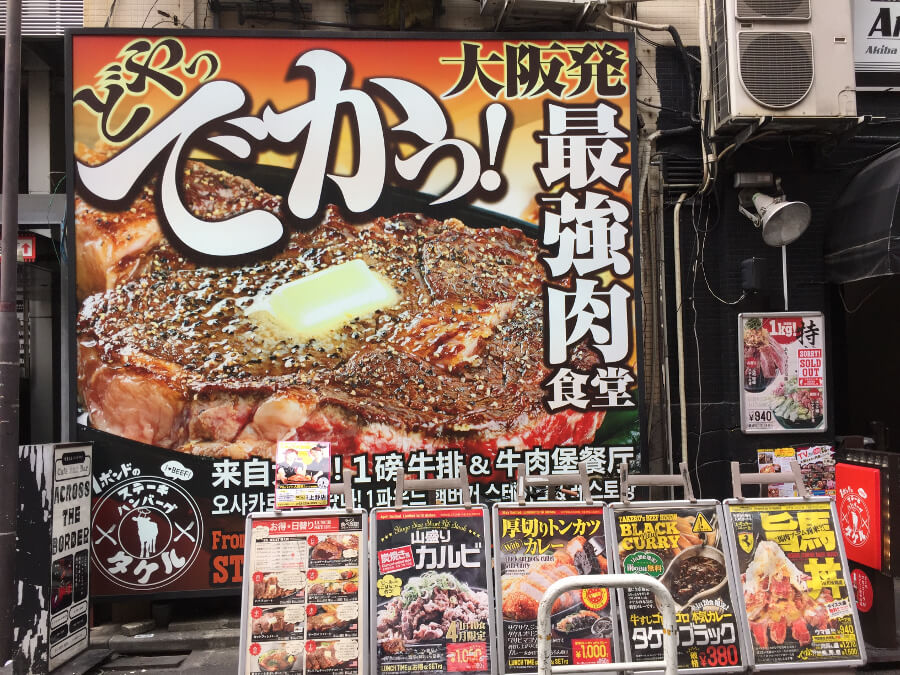 This is a place called "1ポンドのステーキ ハンバーグ タケル" (1 pondo no suteeki hanbaagu takeru) that generally serves steak and various kinds of rice bowls packed with meat. Recently, they started a horse meat campaign that runs all the way until August. They only serve up to 10 plates of it a day so if you want it, it's best to come earlier in the day.
After wiping the drool off our faces, Will and I decided to pop in.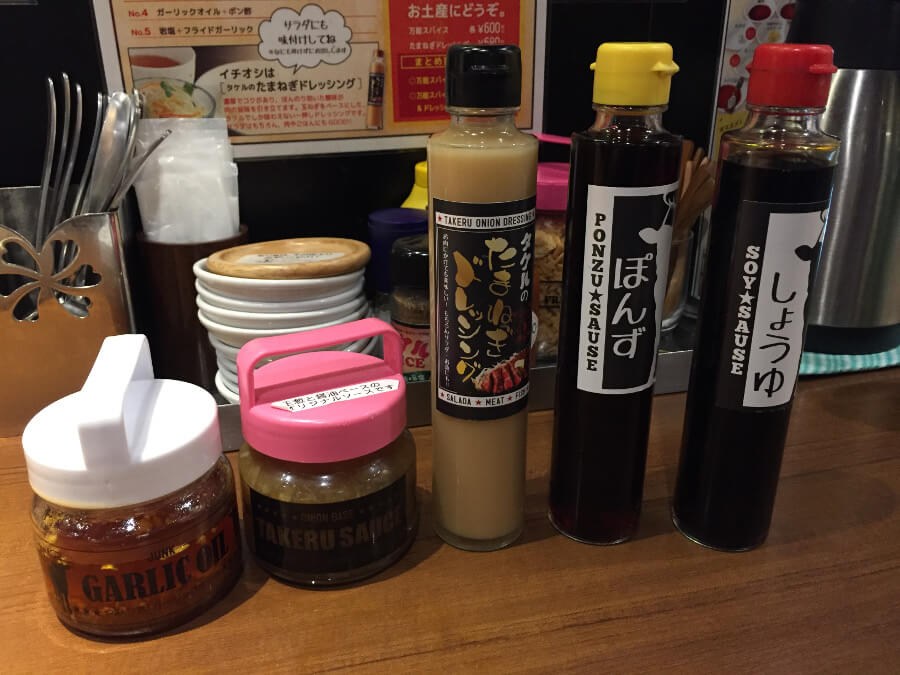 After ordering from the machine  right next to the entry, we had a seat and noticed the wide range of sauces and toppings they offer. Of course the waitress recommended the places' own "takeru sauce" which has an onion and soysauce flavor.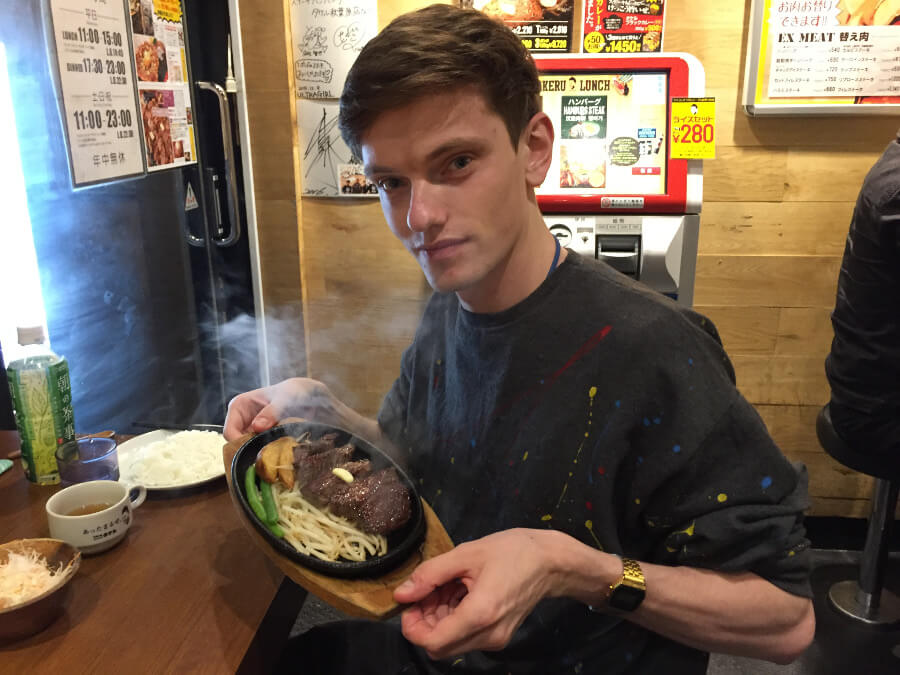 Will decided to stick to the regular menu and ordered this tasty looking steak smothered in butter. Needless to say, this isn't the best place to go if  your looking to shed a few calories.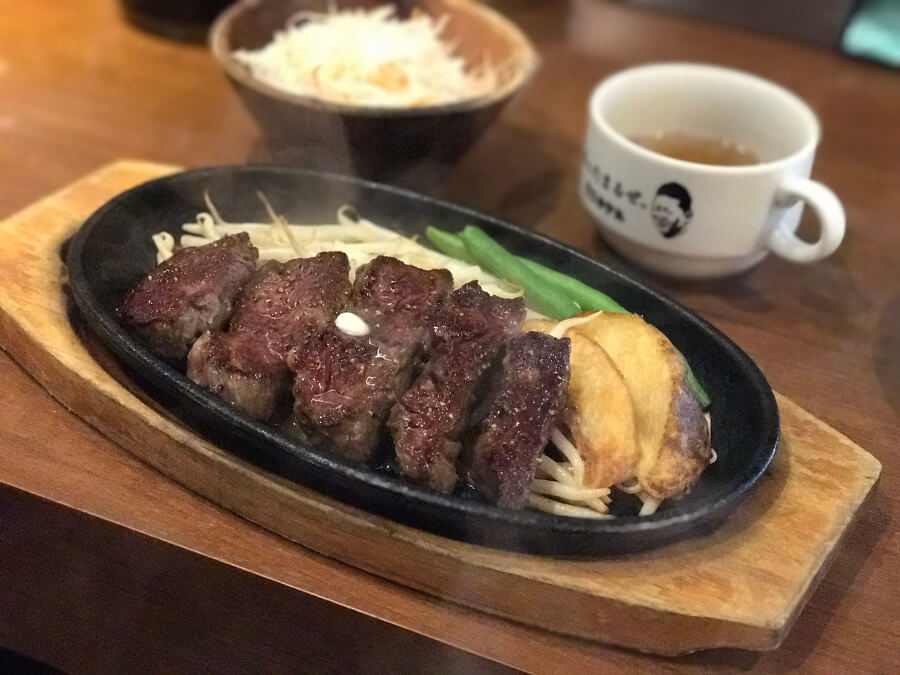 At long last, HORSE MEAT!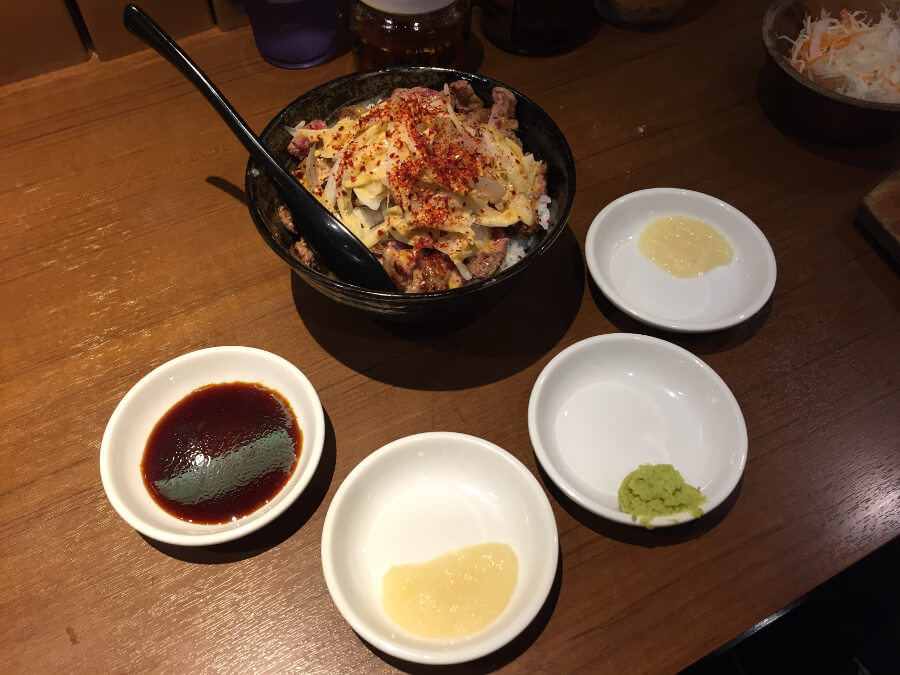 Finally my wonderful stallion had arrived. I did order the smallest size as I was a bit skeptical about eating a pound of horse meat, but I'm glad I did since it was just right.
The staff also recommended that I try each bite with a different sauce or topping. From left to right there was soy sauce, takeru sauce (onion soysauce), wasabi, and finally a garlic sauce.
So how was the taste?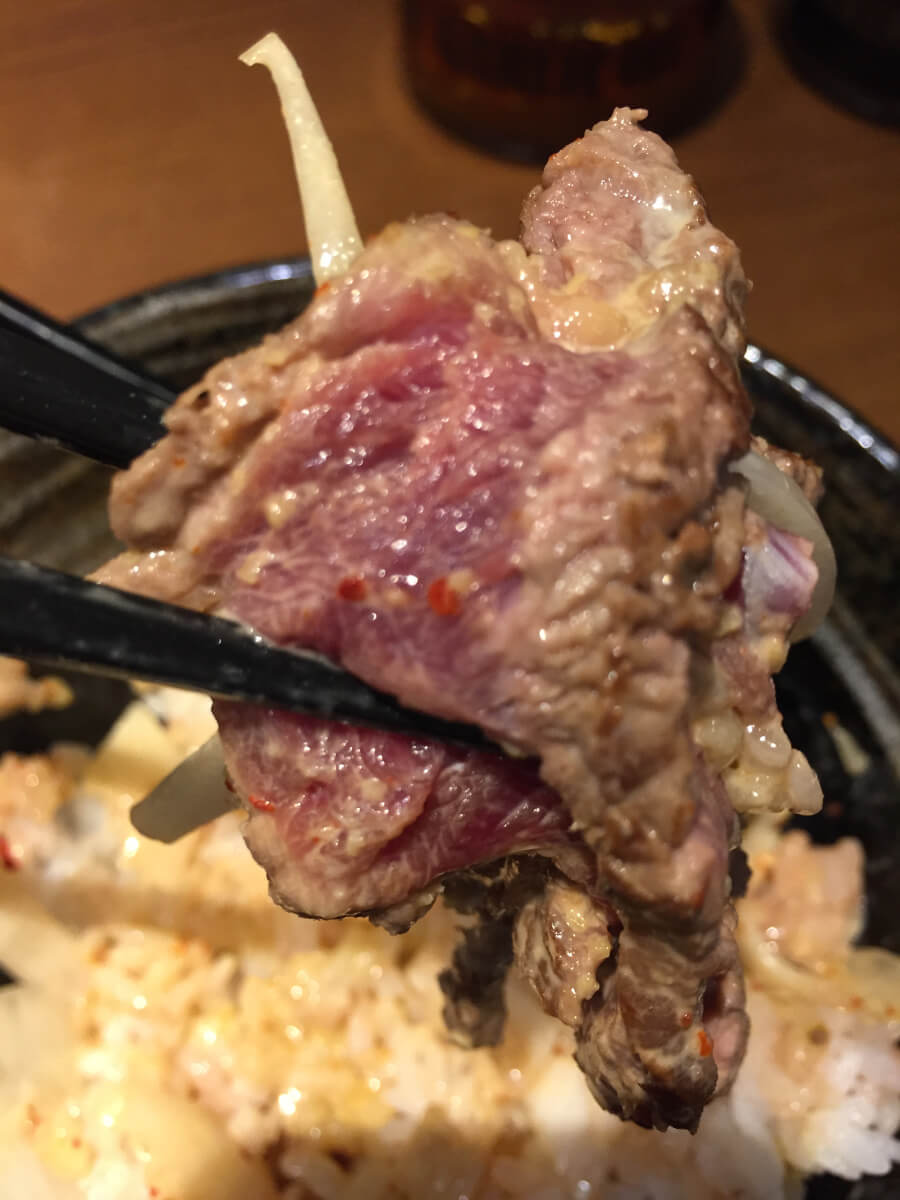 This wasn't my first time having horse meat. As a matter of fact, I really love it and this horse meat rice bowl really hit the spot. The sauce they put on it is actually quite light, so it doesn't feel overbearing to dip the meat in the other sauces? I personally enjoyed pairing soy sauce and wasabi with it the most.
A satisfying meal at a low price.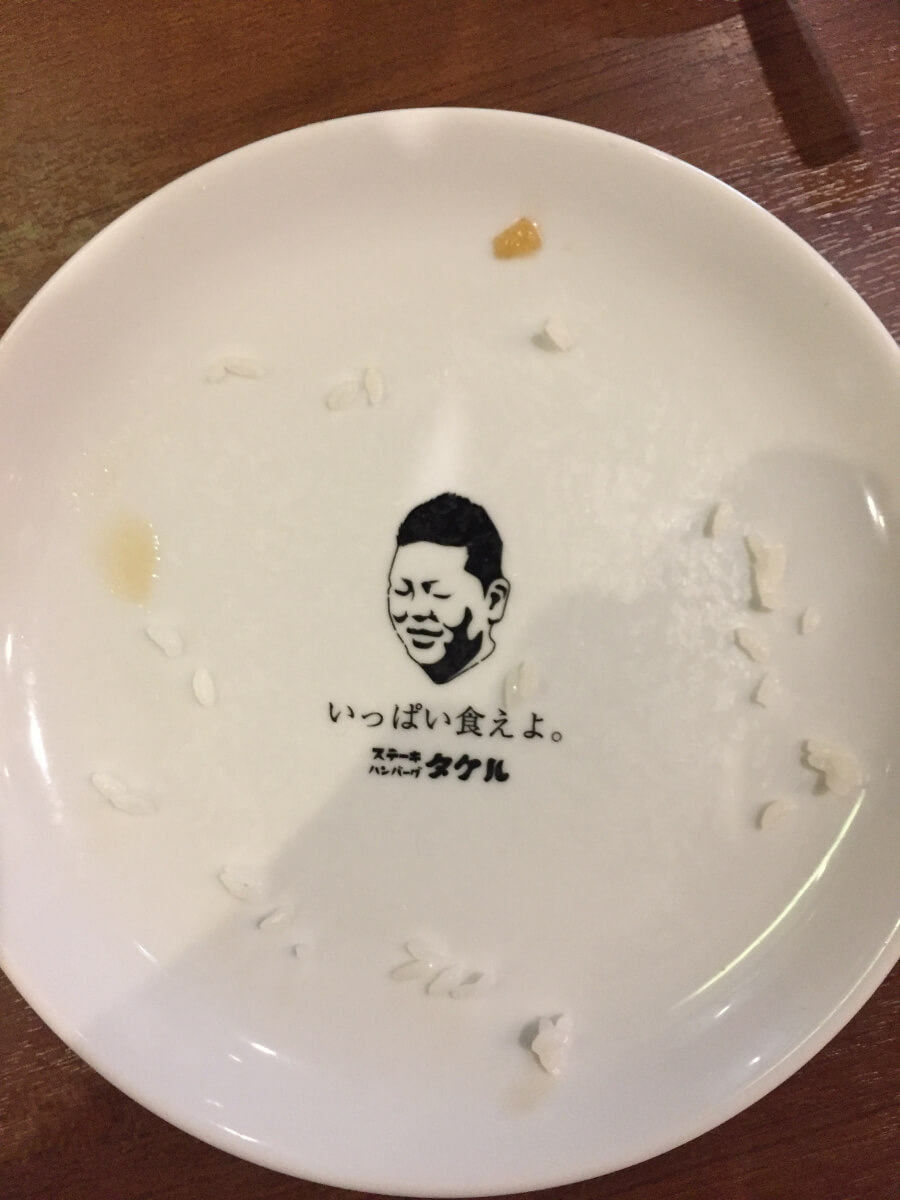 All in all Will and I were quite pleased with the meal. You can eat there for just under $10 and the portions are quite friendly. Of course you dish out more cash for their super sized steaks but for lunch the rice bowls are just right.
If you happen to make your way over to Akihabara before August make sure you try the horse bowl! Even if it hurts your morals, your stomach won't complain.