Hey everyone, Matt here! Have you ever heard of ULTRAMAN before? It's a very popular series here in Japan about a super hero from space who can only survive on earth for 3 minutes. He fights many kinds of villain monsters called Kaiju.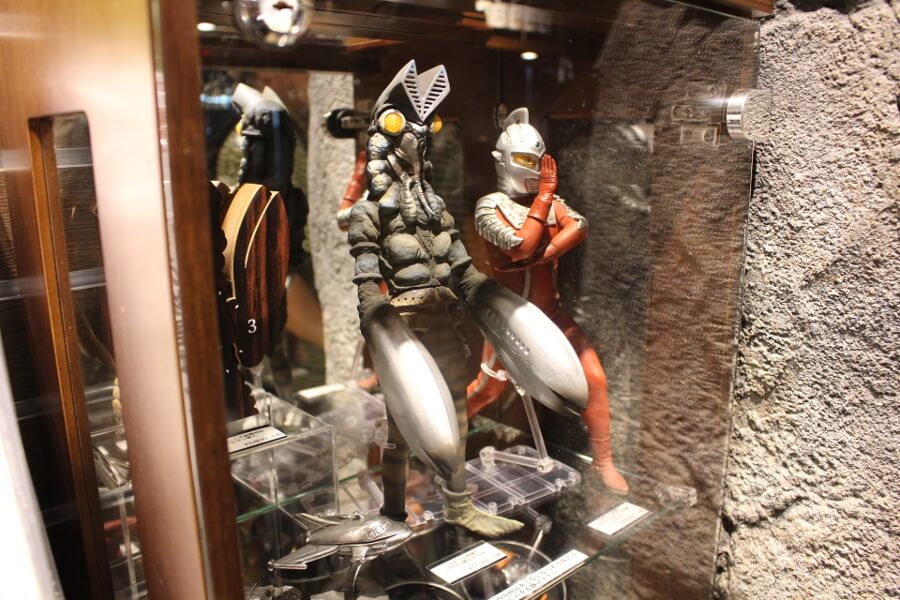 (Kaiju Bultan on the left and ULTRA SEVEN on the right)
So you might be wondering why I'm explaining all this. Well…..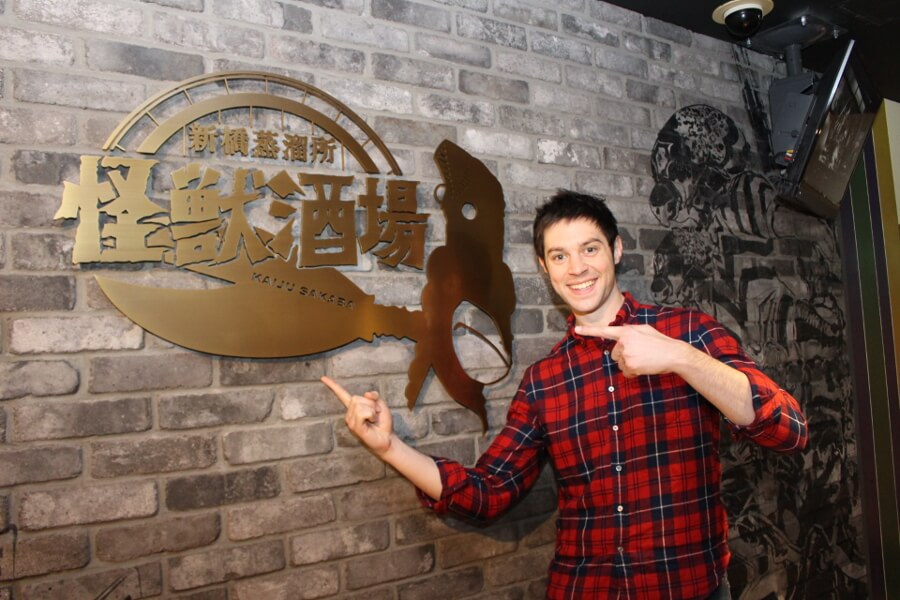 Sakamoto and I got the chance to get behind the scenes coverage of this upcoming ULTRAMAN Kaiju concept bar called "Kaiju Sakaba" in Shimbashi. Let's check it out!
But before we could go inside, we had an unusual greeting….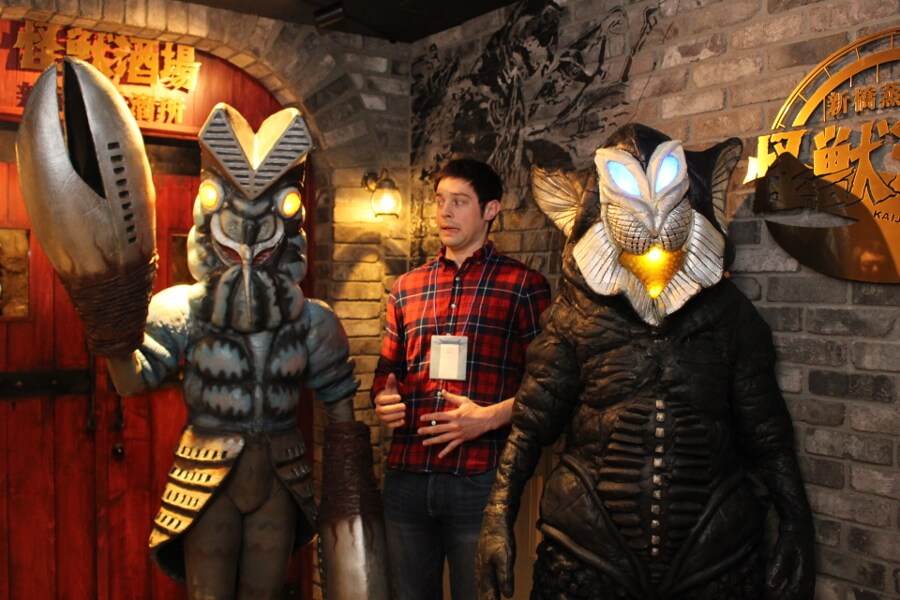 Sakamoto, please explain what is happening right now.

On right of you is the most overlord (manager) of the kaiju franchises in both Kawasaki, and this new branch in Shimbashi. He primarily overseas the Kawasaki chain. The kaiju on the left  of you is the overlord of the Shimbashi chain.

Is this really okay? I feel a bit uneasy right now…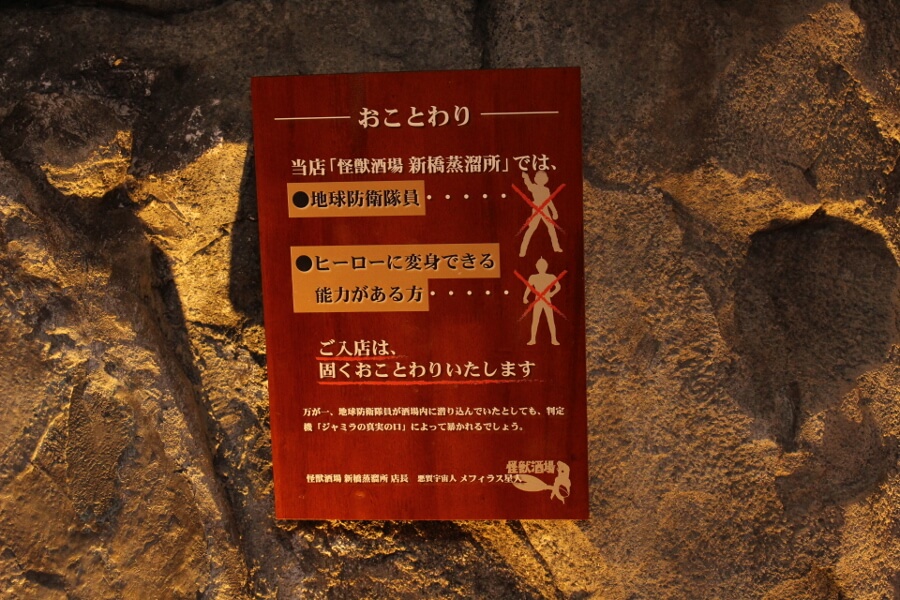 After greeting the two overlords we had entered the actual shop where we noticed this sign. Basically it says if you are a hero, then you are forbidden from entering. After all, this is a bar for Kaiju, NOT ULTRAMAN.
I went through the trial to see if I would be completely accepted by the Kaiju.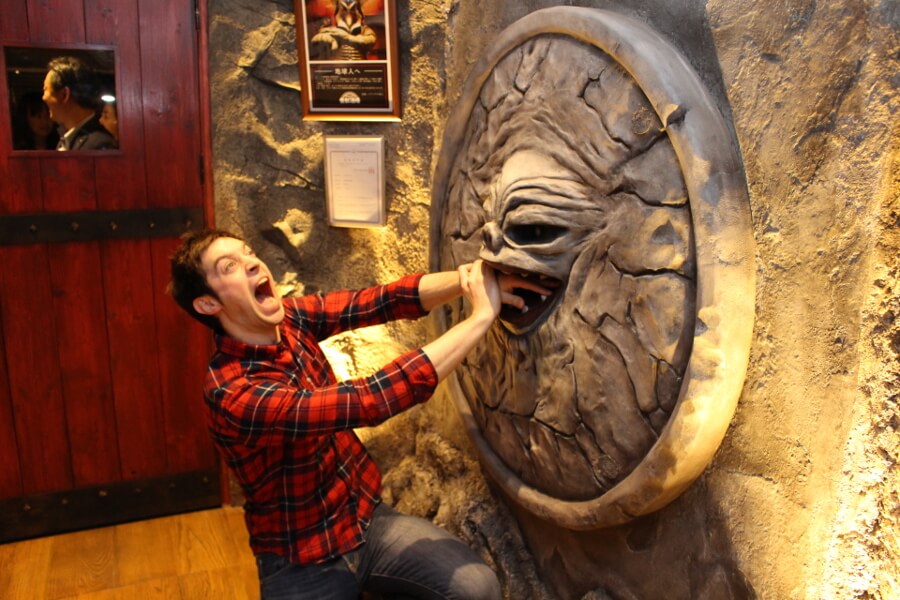 Matt stick your hand in that things mouth!

What WHY?!

It has to bite you to know for sure you are not a hero.
Needless to say, I wouldn't be able to write this article if I were in the hero department. I'm not sure if I should be happy or depressed right now…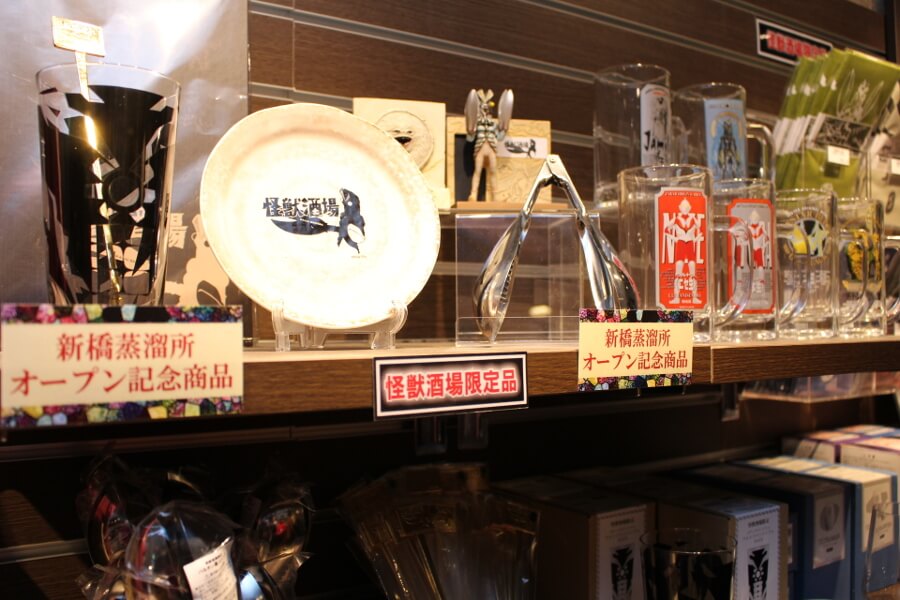 Before entering the actual bar we came across quite a bit of ULTRAMAN merchandise. The majority of the products were of course themed after kaiju. I personally liked the claw tongs.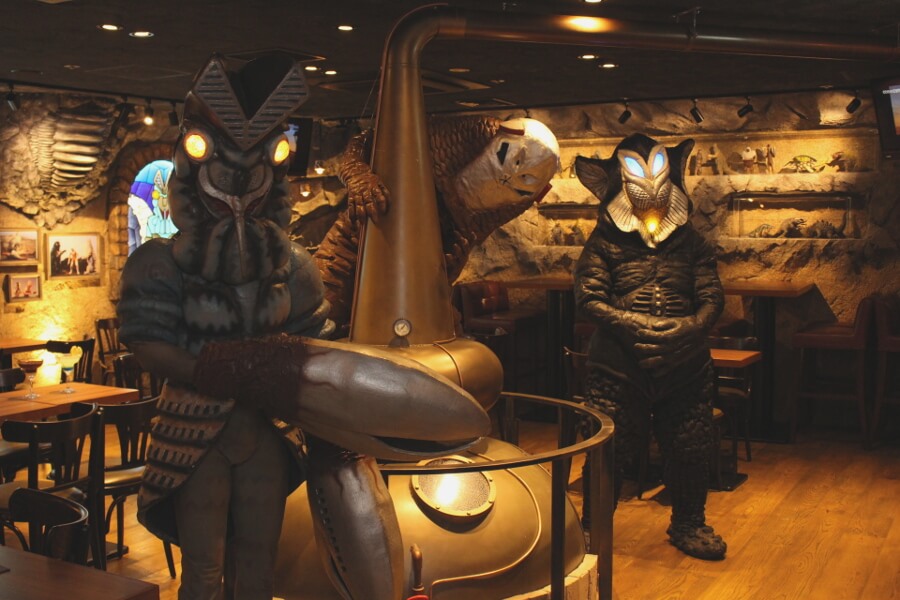 Going into the bar area, the two overlords welcomed us once more. May these two aren't so bad after all?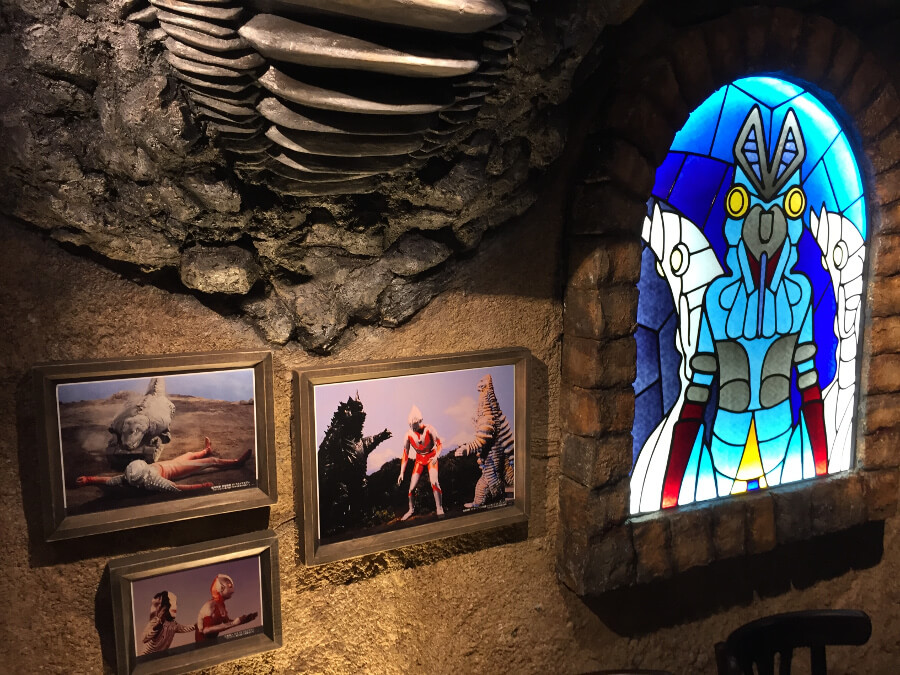 Whoa is that stained glass?

Looks that way! Also the classic shots of ULTRAMAN fighting the kaiju is a nice touch as well.

I feel like ULTRAMAN is losing in all these photos though…

Well I mean the kaiju do have a lot of pride…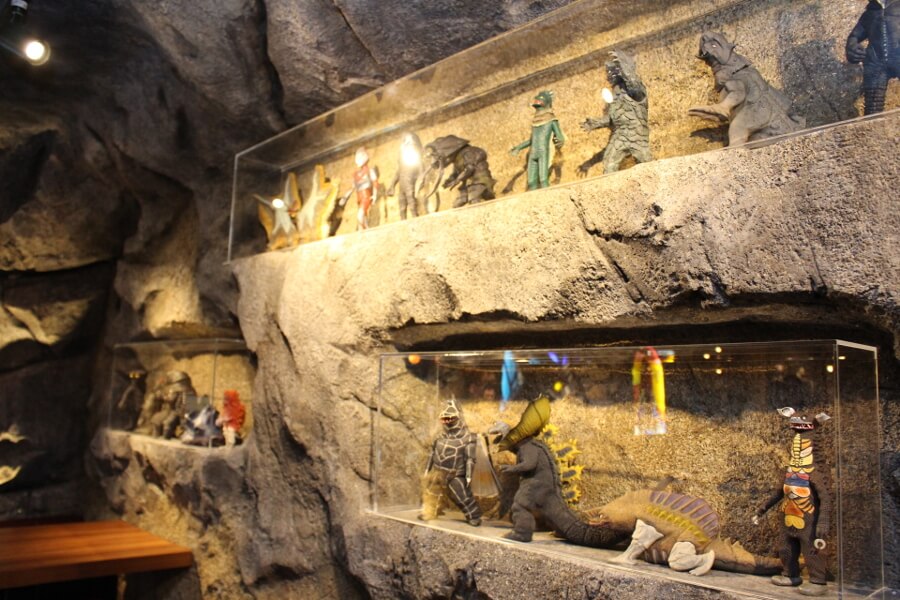 Whether you are sitting in front of beautiful stained glass or next to a display of ULTRAMAN's greatest nemesis, you can really immerse yourself in this world.
The food and drinks weren't just adorable, but quite tasty as well!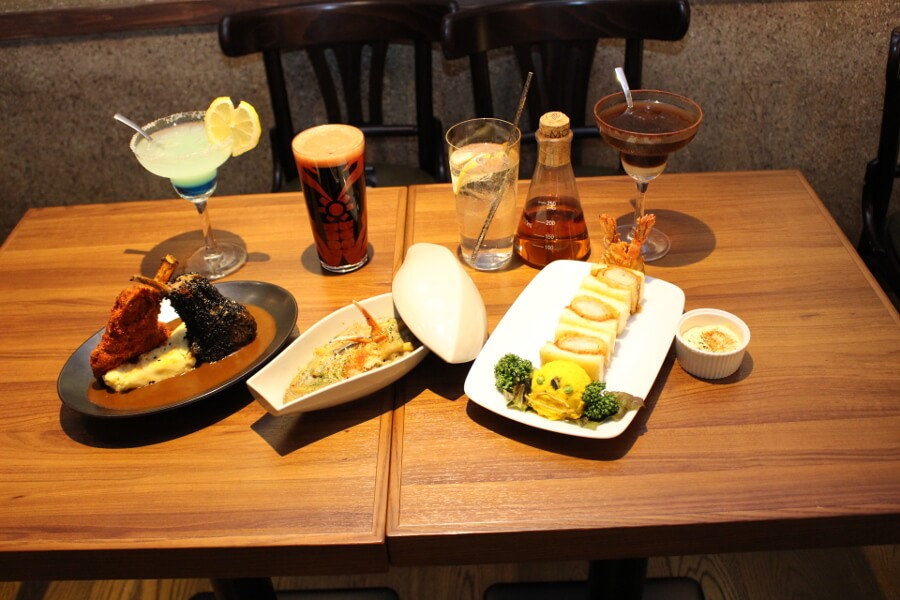 These were some of the special themed foods and drinks they serve. My particular favorite was the bottom right dish is based of the Twintails character in the series. The head is pumpkin salad, the body shrimp-katsu-sandwiches and finally two fried shrimp for the twin tails. Pretty clever I must say!
After receiving such wonderful hospitality, I decided to pay my respects to Shimbashi's branch's overlord.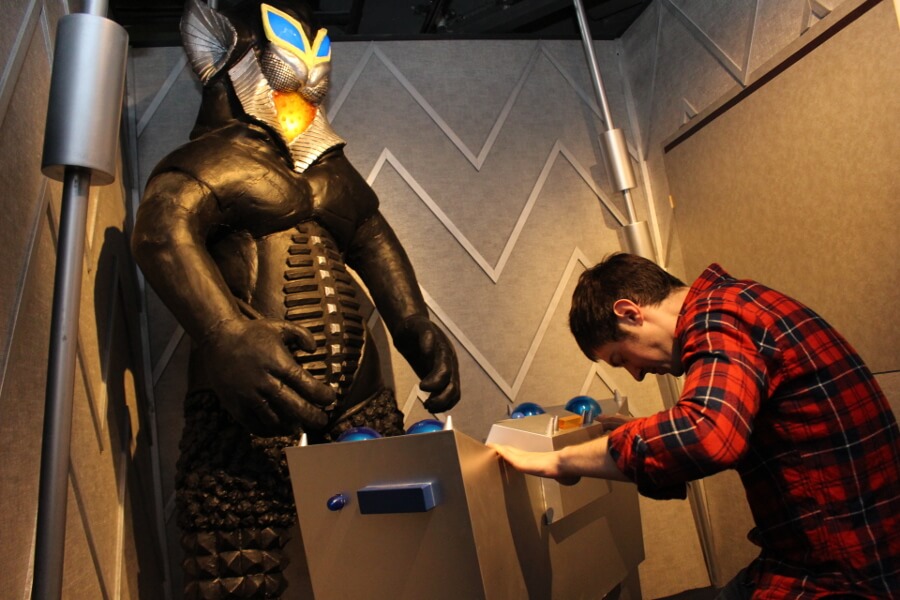 After swearing my allegiance to the kaiju and becoming an enemy of ULTRAMAN, it was time to say farewell to the Shimbashi overlord.
Even an enemy of ULTRAMAN can be a friend indeed.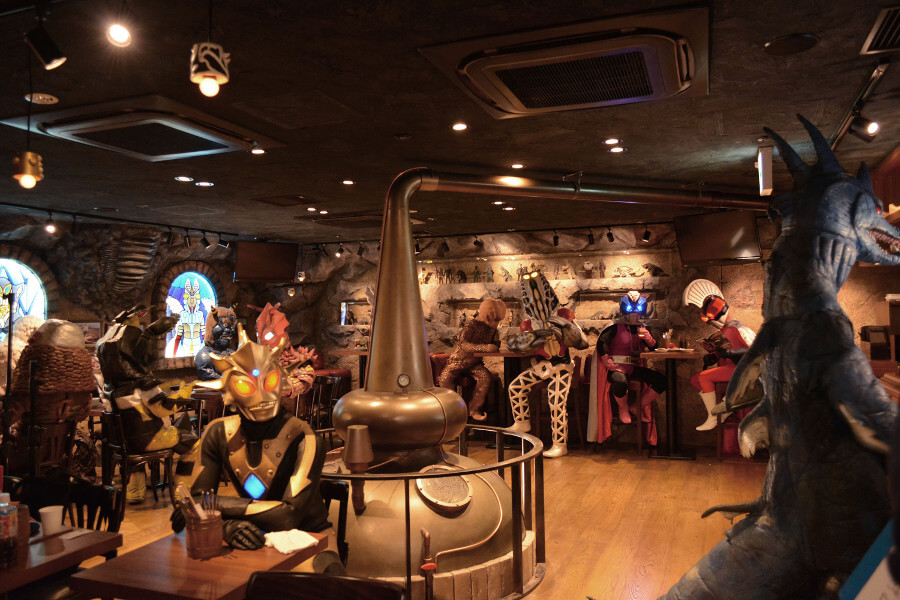 (C)TSUBURAYA PRODUCTIONS
(There seems to be kaiju night as well as human night here at the bar)
The kaiju bar was so much fun and I look forward to going back with some friends. If you happen to be near Shimbashi this is a place you don't want to miss!