Last time was Matt's introduction of Shinjuku's Capcom Bar, but since I'm a game fanatic, I had to go experience it for myself.
After saying under breath that I wanted to go 30 times a day, my wish finally came true.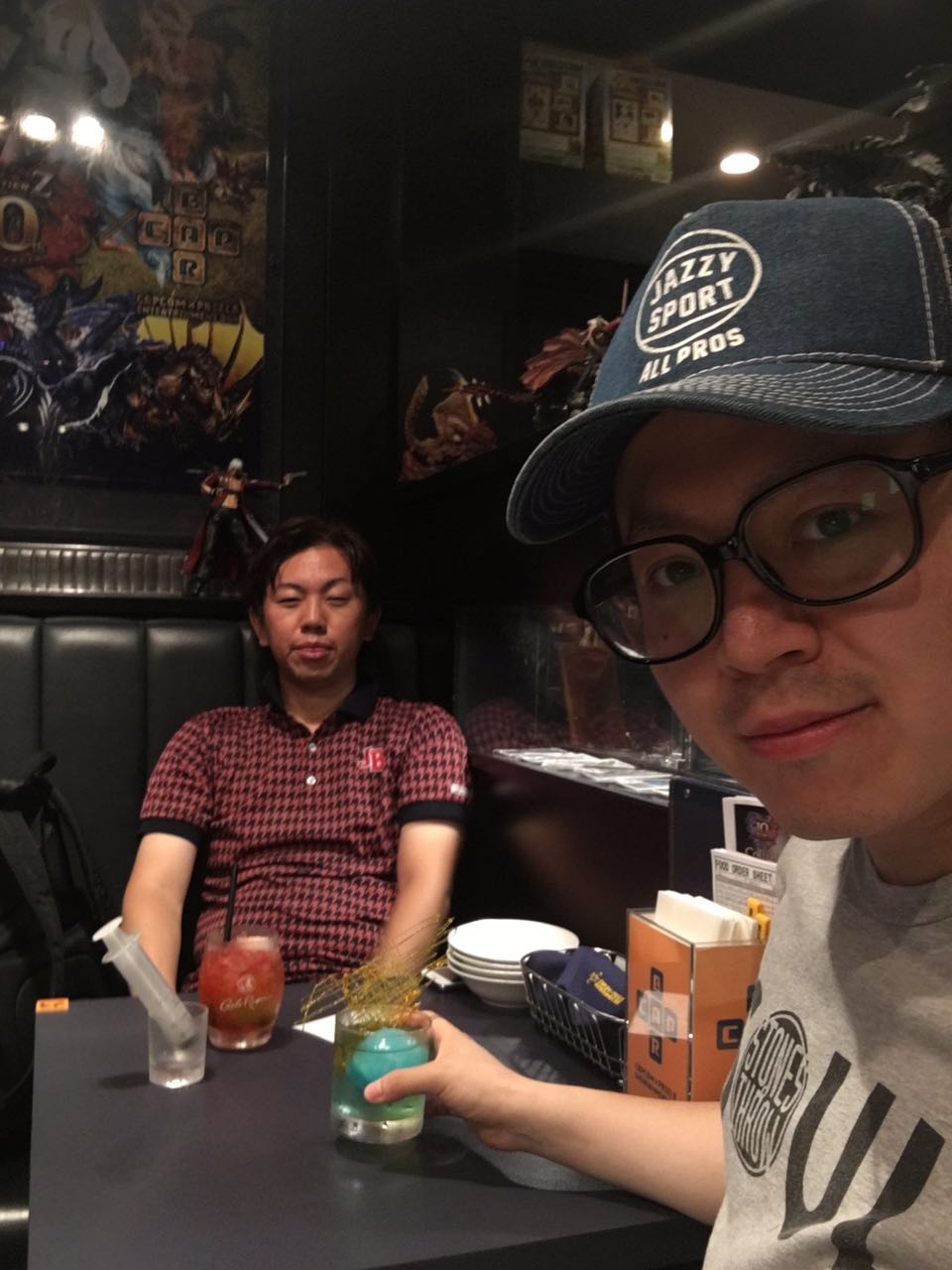 、
While enjoying my fill of great Capcom games and a few drinks, I was starting to feel pretty good.
And so, we missed the last train…
With these keywords lined up: Shinjuku's red-light-dsitrict, 2 guys, at night, were we really gonna be okay?
.
.
.
No sweat no sweat!
In Shinjuku, even if you missed the last train, there are very safe places where you can stay!
Lately, capsule hotels have been gaining a lot of attention both internationally and domestically, which brings us to….
"Anshinoyado" Shinjuku location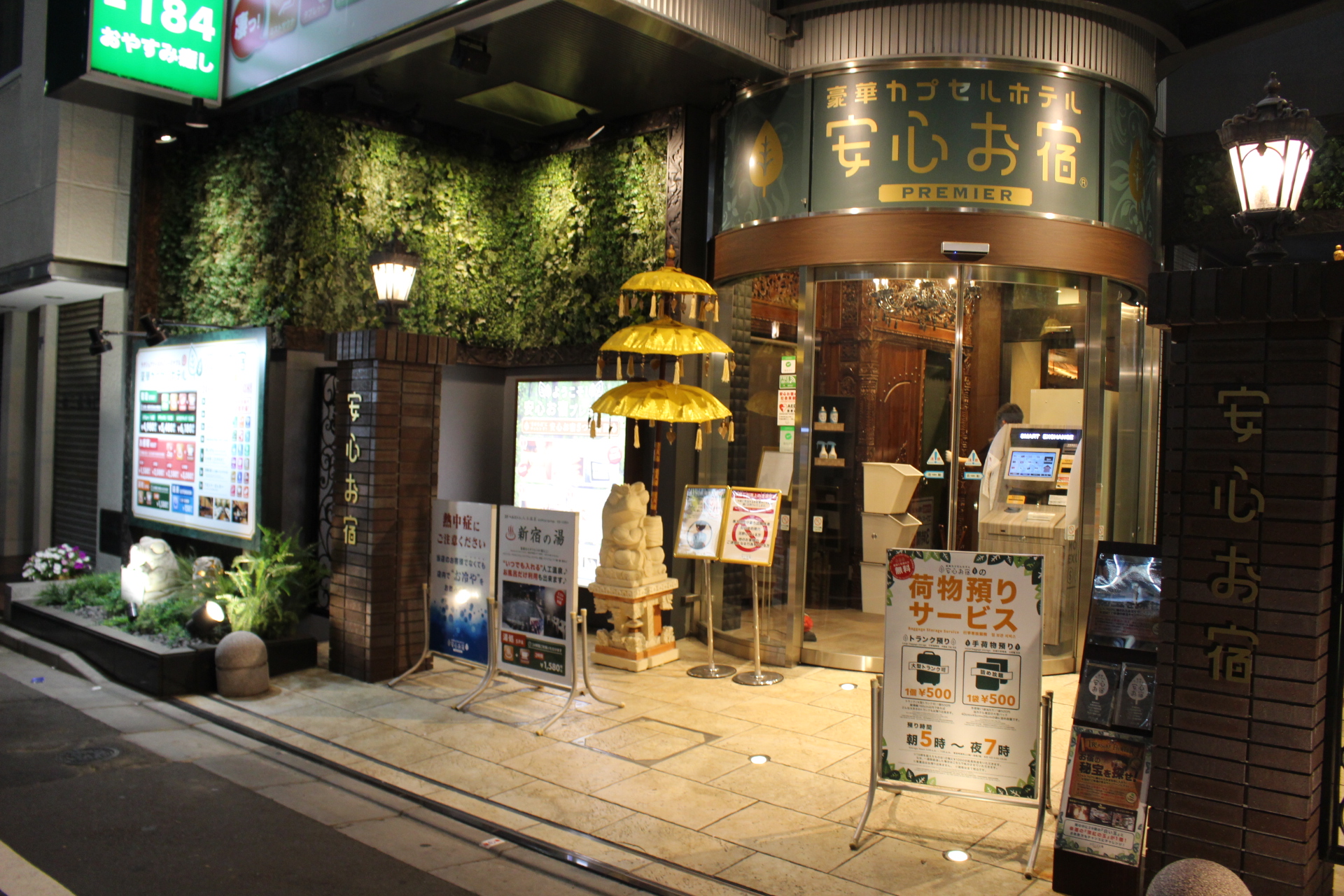 Located just 2 minutes on front from Shinjuku east exit, Anshinoyado has an overall Bali sort of air to it but it still retains the Japanese hospitality you would expect.
Without further ado, let me walk you through my wonderful night here.
First, before you enter the main part of the building, you have to take off your shoes, and throw on some slippers.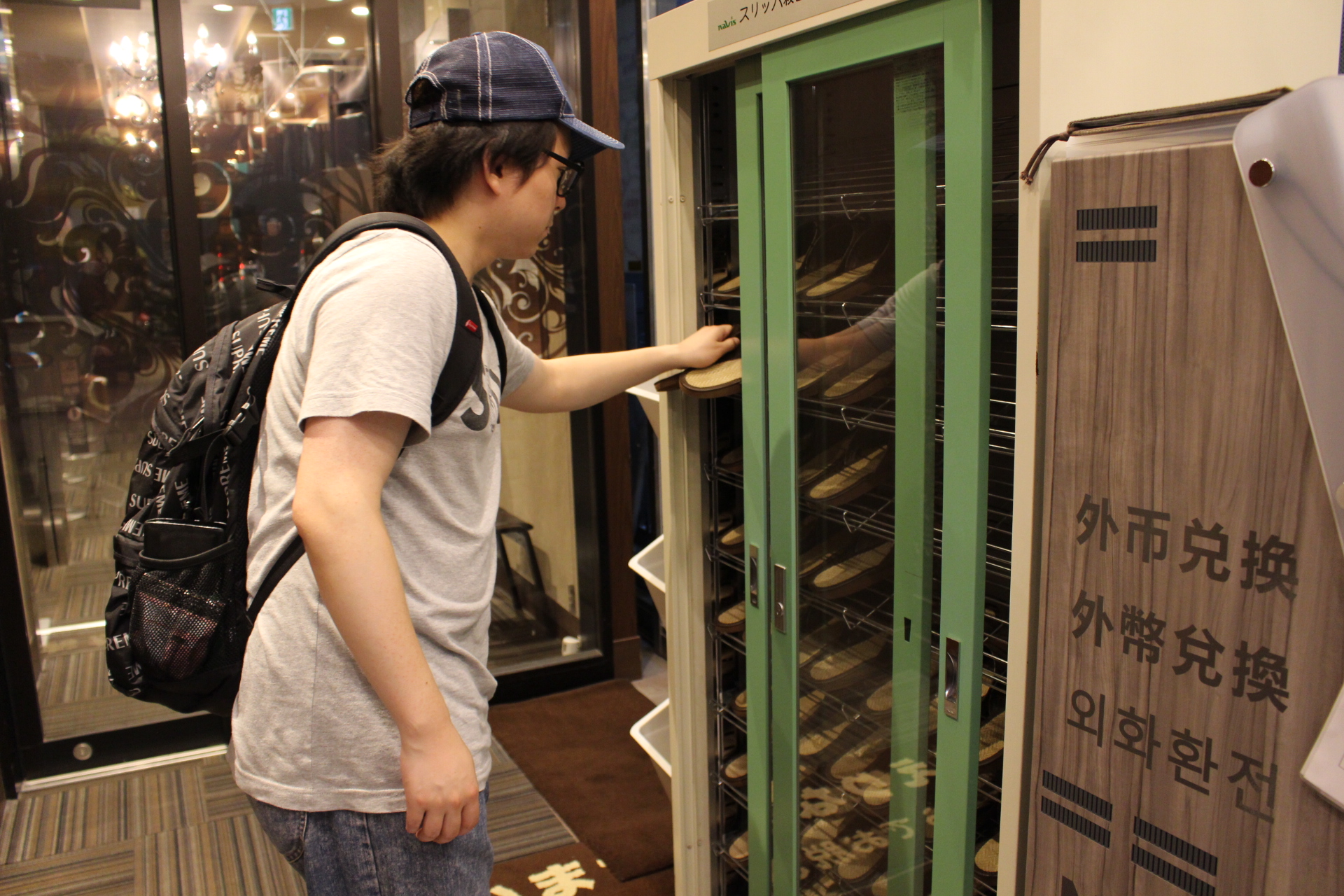 Anshinyado has quite a bit of space, so usually you can get away without making a reservation.
Right after checking in at the reception desk, we received some comfy pajamas.
You might be wondering where do you put your shoes?
No worries! There are many shoe boxes right by the entrance and after putting your shoes in the box, you can lock it with the designated key.
On the way to the changing room, we found a lot of traditional Japanese snacks. Which is all free! Most of them are either pickled vegetables or salty snacks, so they go really well with a nice cold beer.
LUCKY!!
After changing, we took the elevator up.
Careful though, the first floor doesn't have an elevator so you have to walk up to the second floor first.
The second floor is where the public bath is.
Unfortunately, I can't show you around the bath since it's prohibited but the Anshinoyado staff provided us with the picture of the interior below!
Only at a gorgeous capsule hotel like this can you really enjoy a nice Japanese style bath, and rather than normal public bath, this place let's you choose your own shampoo and body wash from a huge selection.
When it comes to things like shampoo, depending on the age, everyone's got different preferences, which makes this service that much more preferable.
After getting out of the bath if you want to relax a bit you can head up to the 3rd floor lounge where they offer shelves filled with manga and magazines.
In addition, there is also free wifi and an all you can drink juice and refreshments bar.
They even go as far to offer a machine for just miso soup. Wait can I just live here?
If you are still feeling a bit worn out after your bath, they also offer a charged massage service.
However, I felt satisfaction from just using the free massage chairs.
Finally it was time to head up to the 5th floor where the capsules are and call it a night.
The wash basin in the bathroom upstairs was so clean. I was doubtful if we were actually staying at a capsule hotel and not a 5 star hotel instead.
This capsule floor is only accessible by people who have a key, so you can sleep safe and sound.
Although it's a common saying in Japan that customers are God, Anshinoyado seems genuinely devoted to this belief and while providing convenience and wonderful amenities, I felt well rested.
As a foreigner, I felt very comfortable staying here, and all the services provided exceeded my expectations.
More Information: